It started in a small shed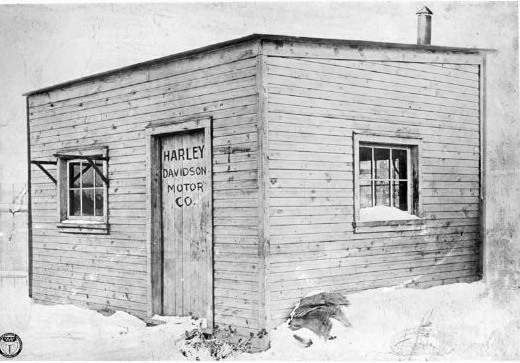 You probably know the story: two young men, William Harley and Arthur Davidson, built their first "motor bicycle", back in 1903. It was essentially a small, 116cc motor attached to a bicycle frame. The first factory where they began their journey into motorcycling history, was likewise a small, 10x15-foot shed located on what would become Juneau Avenue. Today, it's the head office of the Harley-Davidson Motor Company.
Within a few short years, production had moved into a bigger building and the company had grown to have six employees. William and Walter Davidson both joined the company, and Harley-Davidson was incorporated in 1907. Over the next decade the company continued to expand, with many of the motorcycles produced for the American military, involved in World War I.
After the War, Harley-Davidson continued to prosper. Emerging from The Great Depression as only one of two American Motorcycle companies left (Indian, being the other), Harley-Davidson had some major milestones: The 1936 EL, which introduced the Knucklehead engine and gave the classic styling still found in today's lineup: The 1948 E and F models, which gave us the Panhead, the first engine with hydralic lifters; the 1957 K model, which is where the current Sportster line stems from, Harley-Davidson's oldest production model; and the introduction of the Shovelhead motor in 1966, another iconic milestone in the Motor Company's storied engine history
Not all changes were for the best, however. In 1965, Harley-Davidson went public, and eventually merged with American Machine and Foundry in 1969. Under the AMF banner, production was ramped up, but quality control suffered, leading to many of the stories of poor craftsmanship of the Harley-Davidson line. Eventually, a group of executives, including members of the founding families, bought out AMF in the early '80s and once again, Harley-Davidson was on its own.
Since then, the Harley-Davidson brand has become a classic American icon. While the core of the lineup retains classic styling that harkens back to the early '30s, the company has shown they are not afraid of trying new things. From their V-Rod lineup to the highly-experimental Project Livewire, Harley-Davidson's first electric motorcycle, and, most recently, the Pan American, show that the Eagle is not afraid of flying into unchartered territories.
Note: Most of the information found within this section was culled from Rick Conner's excellent Harley-Davidson Data Book. Pictures of the motorcycles were found on the web. If you have a clarification, request, or need a picture removed due to copyright, please let me know. It'll be taken care of ASAP.